Sonya Carroll Wins 2012 Clark Award
Note: DeRisk IT is now known as DeRisk QA.
Posted in Company Events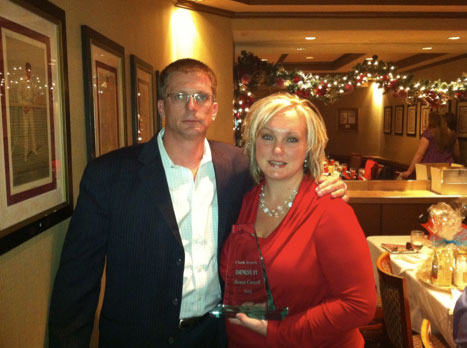 Sonya Carroll, Project Lead for the DeRisk IT Inc. offsite testing facility, has been awarded the 2012 Clark Award. This award is given out each year to the employee that best exemplifies the vision and corporate culture of DeRisk IT.
Since joining years ago as an intern, Sonya has been strongly involved in growing DeRisk IT, as a well known leader in the software services industry. "Sonya has been in the expansion of our services over the past 24 months," said Lann Stewart, Partner. "She has proven her dedication to our executive team time and time again. She is the model employee that we try to constantly hire."
Sonya Carroll is part of a dedicated testing team that allows clients to utilize offsite testing without outsourcing to typical foreign countries. The system allows US-based companies the opportunity to continue to receive top quality services and keep money in America. The processes and methodologies of this facility are based on best practices over years of delivering testing solutions.
The Clark Award is named after CEO and Chairman, Eddie Clark. Mr. Clark is a mentor and role model to a large amount of the employees at DeRisk IT. His moral standard and dedication to DeRisk IT and his employees make this award special to any recipient. His vision and determination to see DeRisk IT succeed is awarded to the individual each year that fits the corporate culture and sees the clear vision of the company.